Sprint 3000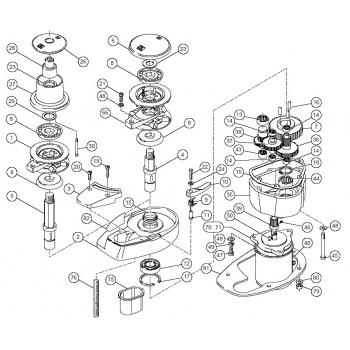 Sprint 3000 Windlass is a powerful fast electric windlass, all parts listed here are generally available from stock. Other items available to special order
Main Shaft Gear

Part Number: 630-007

Price: £131.20
257

Control Arm Stainless Steel

Part Number: 630-010

Price: £39.80
258

3rd Compound Gear

Part Number: 630-036

Price: £215.25
259

2nd Compound Gear

Part Number: 630-037

Price: £189.63
260

1st Compound Gear Assembly

Part Number: 630-038

Price: £344.40
261

Motor Pinion

Part Number: 630-039

Price: £100.45
262

24V 3-Wire Motor

Part Number: 630-071

Price: £510.37
263

Clamping Plate

Part Number: 630-081

Price: £47.86
264

Gear Case Assembly, includes bearings, no gears

Part Number: 6063035

Price: £375.00
265

Fleming

Part Number: 6063066

Price: £30.08
266

Seal & Gasket Kit

Part Number: 6063090

Price: £17.67
267
Transport Costs
Prices exclude European Tax, VAT, which will be added at the checkout at 20%, depending on the destination of the order.
Transport costs for items sent by courier or post are calculated after a shipping address has been provided during the checkout process.
SL Spares is closed on 4th March 2020, reopening 9th March 2020.